Home (Health) Care
Home Care of Central Illinois
A Division of the Logan County Department of Public Health
Home Health Agency
What Is Home Health Care?
Skilled nursing care, physical, speech, and occupational therapies, and social services provided to clients in their homes as prescribed by their doctors.
Who is Eligible?
Any person living in the following ten Central Illinois counties who is confined to home, has a skilled care need, and has a physician's order for home care:
| | |
| --- | --- |
| Christian |  McLean |
|  DeWitt |  Menard |
|  Logan |  Piatt |
|  Macon |  Sangamon |
|  Mason |  Tazewell |
Who Pays?
Costs are paid by Medicare, private insurance, Medicaid, or private pay based on a sliding rate of fee scale.
Services Include: 
Registered Nurses (RNs) - provide skilled nursing services and education
Therapists
 - physical, occupational and speech therapists offer in-home therapy
Social Services Counseling
 - assist patients with finding personal & financial assistance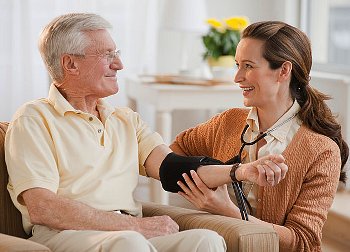 House Calls
Registered nurses are available to assist clients in their own homes with activities such as medication set-up, blood pressure monitoring, and veni-puncture.
A nominal fee is charged for these services.
Home Care of Central Illinois (HCCI) is a licensed, Medicare-certified, not-for-profit, home healthcare agency operated through the Logan County Department of Public Health since 1981.  HCCI consistently offers quality care and patient satisfaction that meets or exceeds area, statewide, and national averages.
Choose the only Logan County headquartered home health agency...Choose Home Care of Central Illinois

Rated in the top 25% nationally in patient satisfaction 2014
If you have any questions or comments about our services, or suggestions on how we could serve you better, please email us at info@lcdph.org.  For more information please contact the Logan County Department of Public Health, Home Health Supervisor Melodye Crabtree, RN (735-2317) or E-mail mcrabtree@lcdph.org .